CocAddict Consortium meeting in Bordeaux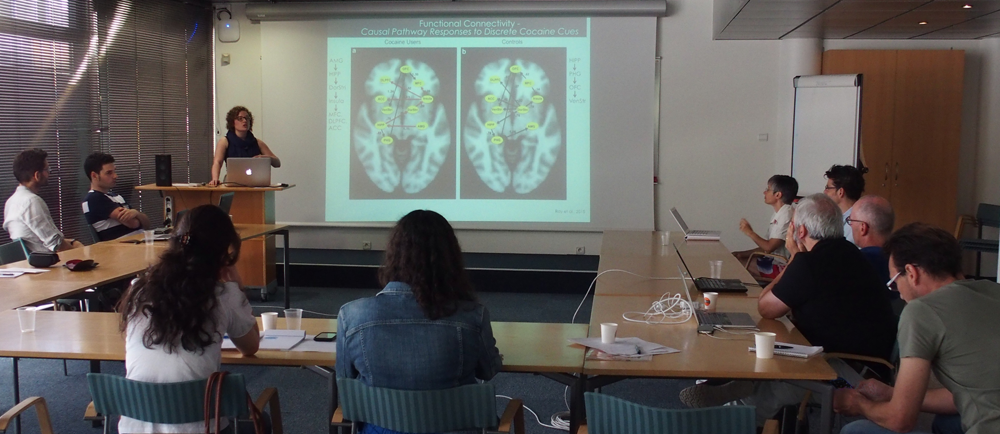 Members of the European ERA-NET NEURON (Network of EUROpean funding for Neuroscience research). COCADDICT met in Bordeaux on July, 7th and 8th 2015, in the premises of Magendie Neurocenter. Specialized in cocaine addiction mechanisms, this network members develop preclinical and clinical research projects on neural mechanisms involved in cocaine addiction process. Coming from Canada and Germany, the neuroimaging and electrophysiology experts of this consortium came in Bordeaux to share their results with their French partners and promote the development of scientific collaborations.
Drug addictions involve complex behavioral and neurobiological mechanisms that only multidisciplinary and collaborative research will be able to elucidate. This meeting, organized in an informal format to facilitate exchanges and discussions, brought together Professors Marco Leyton (Department of Psychiatry, McGill University, Montreal) and Rainer Spanagel (Director of the Department of Psychopharmacology, Central Institute of Mental Health, Mannheim) with their colleagues from Bordeaux: Veronique Deroche-Gamonet and Cyril Herry (Neurocentre Magendie) All PIs were accompanied by members of their respective teams. Coordinated by Veronique Deroche Gamonet (Inserm U862, Neurocentre Magendie), the network has received BIS-Canada funding form Bordeaux University which allowed the organization of this meeting.
The scientists presented their most recent research projects, developed in parallel in rodents and humans. Comparison of neuroimaging (fMRI, PET scans) and electrophysiology analysis performed by the different teams, highlighted anatomical alterations in certain brain areas of individuals addicted to cocaine, and involved certain neuronal subpopulation present in defined brain structures in the development of addiction processes.
The meeting format allowed the French and foreign partners to establish privileged contacts, and their fruitful and constructive discussions led to the drafting of a review article about identifying the neural networks involved in cocaine addiction mechanisms and resulting translational aspects.
---